Dear Colleagues!
This year the 9th Technology Transfer conference organized by the IAP Hungarian Division in the Silvanus Hotel in Visegrád, between May 25-27, focuses on colorectal cancer screening related pathology diagnostics. Plenary lectures will be held by well-known European gastrointestinal pathologists: Professors Arzu Ensari, Fred Bosman and Iris Nagtegaal. During the three slide seminars precursor lesions, epithelial and non-epithelial tumors will be presented and discussed. Additionally, a session will be dedicated to sharing established colorectal cancer screening programs' experiences among Central-European countries.
Poster presentations are accepted and the winner of the best poster award will be invited to participate at the next Technology Transfer Meeting for free.
I am pleased to invite you to the Meeting on behalf of Hungarian Division of the IAP and I look forward to seeing you soon in Hungary.
Yours sincerely,
Janina Kulka
Course Director
President of IAP HD
Date
May 25-27, 2017
Location
Visegrád is one of the gems of the Danube Bend to the north of Budapest.
Archeological findings provide evidence that the settlement has been inhabited since ancient times and that its importance first grew under the Roman Empire. Later it became a residence of princes, known as Visegrád.
In the 14th century Visegrád developed rapidly. During the reign of the renaissance King Matthias extravagant construction started. The palace complex evolved, enriched with late-Gothic elements.
With the arrival of steamboat traffic on the Danube in the early 19th century, a new chapter opened in the history of Visegrád.
Today the Danube Bend is an outstanding holiday resort and recreation area where the mountains, the river, and the flat lands meet. The buildings of the former Visegrád fortress are museums, while the excavated and reconstructed parts of the former Royal Palace host castle games during the summer.
Visegrád is further linked to the so called 'Visegrád Four' or V4, which is the alliance of the Czech Republic, Hungary, Poland and Slovakia. The Group was formed in Visegrád on February 15, 1991, with the aim to intensify mutual co-operation and friendship between the four states.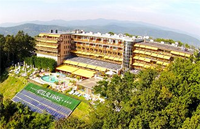 Hotel Silvanus
H-2025 Visegrád, Fekete-hegy
GPS koordináta: É 47.793577 K 18.987661
www.hotelsilvanus.hu
Map

On the hillside above Visegrád, the hotel offers a breath-taking view of the Danube Bend, with an undisturbed natural environment, quiet surroundings and excellent conference and wellness services.
Transfer
We provide transfer from Visegrád Hajóállomás bus station to Hotel Silvanus on May 25, at 11:48.
Please catch the following bus in Budapest to reach the transfer:
MAIN PATRON
Dietmar Schmidt, President Elect of the IAP and as former Vice President for Europe
Officers of the Hungarian Division of the IAP
President: Janina Kulka
Secretary: Lilla Madaras
Past President: Zsuzsa Schaff
Treasurer: Gabriella Arató
Faculty
Barna Bogner, Germany/Hungary
Fred T. Bosman, Switzerland
Gábor Cserni, Hungary
Ondrej Daum, Czech Republic
Arzu Ensari, Turkey
Snjezana Grazio, Slovenia
Andrzej Mroz, Poland
Iris Nagtegaal, The Netherlands
Zsolt Orosz, UK/Hungary
Tamás Strausz, Hungary
Local organizing committee
Chairperson: Janina Kulka
Members: Lilla Madaras, Peter Pogány, Glória Radvánszky
Congress Secretariat
K&M Congress Ltd.
H-1064 Budapest, Podmaniczky u. 75.
telephone: +36-1-3012000
telefax: +36-1-3012001
e-mail: info@kmcongress.com
Important deadlines
Abstract submission: March 31, 2017
Early registration fee: April 10, 2017
Congress website
iaphd.kmcongress.com
Official language
The official language will be English.
Scientific program
The organizers reserve the right to make changes as seems appropriate.
Thursday, May 25, 2017
09.45 - 11.45
Registration
11.45 - 12.30
Buffet lunch
12.30 - 12.45
Opening ceremony
12.45 - 13.30
Oncologist's and Surgeon's perspective
Gy. Bodoky, A. Bursics
13.30 - 14.15
Break - Poster viewing
14.15 - 16.15
Slide seminar - Epithelial tumors
B. Bogner, T. Strausz
16.15 - 17.00
Break - Poster viewing
17.00 - 17.45
Precursor lesions
A. Ensari
19.00 - 21.00
Dinner
Friday, May 26, 2017
09.00 - 09.45
New surgical techniques - Task of the pathologist
I. Nagtegaal
09.45 - 10.30
Prognostic factors of colorectal cancer
A. Ensari
10.30 – 11.00
Break
11.00 - 12.30
Slide seminar - Non epithelial tumors
Zs. Orosz
12.30 – 14.00
Lunch
14.00 - 14.45
Molecular classification of colorectal cancer
F. Bosman
14.45 - 15.30
Molecular pathology in everyday routine
F. Bosman
15.30 - 15.45
Break
15.45 - 16.30
Standard reporting and QA
I. Nagtegaal
16.30 - 17.15
Pathology of neoadjuvant therapy
I. Nagtegaal
19.30 - 22.30
Dinner
Saturday, May 27, 2017
09.00 - 11.00
Slide seminar - Precursor lesions
A. Ensari
11.00 - 11.30
Break
11.30 - 11.50
Nodal staging of colorectal cancer, TNM and practical issues
G. Cserni
11.50 - 12.10
Epidemiology and European situation
I. Boncz
12.10 - 13.15
Screening experiences - pathologists' perspective
S. Grazio, A. Mroz, O. Daum, B. Bogner
13.15 - 15.00
Closing, Best Poster Award, buffet lunch, leaving
Abstract submission
Abstracts for poster presentation only can be submitted online, maximum 1,200 characters of text (excluding name and affiliation).
Deadline for abstract submission: March 31, 2017.
Abstracts received after the deadline will not be considered. The decision of the Abstract Evaluation Committee will be forwarded to the author by e-mail until April 10, 2017. Presenting authors must register and pay the registration fee.
Format requirements
Title: maximum of 100 characters, do not use capital letters.
Authors: first name(s), initial(s), surname Affiliations: institute, department, city, country
Abstract papers should include the following sections:
Introduction/Background
Objective/Purpose
Method
Results
Conclusion
All abstracts should be written in English Abstracts will be published in the Final Program. Submission implies consent to the publication.
Presentation
Poster size: max. 100 cm × 120 cm vertical.
Abstract submission is CLOSED.
Attendance certificate and CME (Continuing Medical Education) credits
The "Hungarian Division of the International Academy of Pathology" (or) "Colorectal Pathology, 9th Central European Meeting, Technology Transfer in Diagnostic Pathology" is accredited by the European Accreditation Council for Continuing Medical Education (EACCME) to provide the following CME activity for medical specialists. The EACCME is an institution of the European Union of Medical Specialists (UEMS), www.uems.net.
The "Colorectal Pathology, 9th Central European Meeting, Technology Transfer in Diagnostic Pathology" is designated for a maximum of (or "for up to") 12 hours of European external CME credits. Each medical specialist should claim only those hours of credit that he/she actually spent in the educational activity. Through an agreement between the European Union of Medical Specialists and the American Medical Association, physicians may convert EACCME credits to an equivalent number of AMA PRA Category 1 Credits™. Information on the process to convert EACCME credit to AMA credit can be found at www.ama-assn.org/go/internationalcme.
Live educational activities, occurring outside of Canada, recognized by the UEMS-EACCME for ECMEC credits are deemed to be Accredited Group Learning Activities (Section 1) as defined by the Maintenance of Certification Program of The Royal College of Physicians and Surgeons of Canada.
Registration fees
(including 21.26% VAT)
| | | |
| --- | --- | --- |
| | Before April 10, 2017 | After April 10, 2017 |
| IAP members | 150.00 EUR | 200.00 EUR |
| Non-members | 200.00 EUR | 250.00 EUR |
| Residents and PhD Students* | 120.00 EUR | 150.00 EUR |
| Accompanying persons | 120.00 EUR | 150.00 EUR |
*requires certification from the applicant's institution
| | | |
| --- | --- | --- |
| | ACTIVE PARTICIPANTS | ACCOMPANYING PERSONS |
| admission to the scientific program and the exhibition | | |
| congress bag | | |
| handout | | |
| coffee and refreshment during the break | | |
| dinner on Thursday, May 25 | | |
| dinner on Friday, May 26 | | |
| buffet lunch on Saturday, May 27 | | |
| sightseeing tour on Friday, May 26 | | |
Accomodation
Hotel Silvanus****

H-2025 Visegrád, Fekete-hegy

Website Map
Single room
100.00 EUR/room/night
Double room
140.00 EUR/room/night
Room rates include: Buffet breakfast and buffet lunch; Free wifi; Free use of the wellness centre and pools of the hotel from 07:00 to 21:00 every day with bath robe; VAT (15,25 percent) and local tax.
Parking is 2.00 EUR/car/night.
SOCIAL PROGRAM AND TOURS
Dinner
Thursday, May 25, included in the registration fee. Buffet dinner in Hotel Silvanus from 19.00
Sightseeing Tour by bus to the Ister-Granum Euroregion and Esztergom
Friday, May 26, included in the accompanying persons' registration fee. Departure from Hotel Silvanus at 10:00 am. Duration appr. 4 hours. The Ister-Granum Euroregion is situated on the Hungarian-Slovakian border. Through thousands of years, nature gave unmatched features to this land. Over a third of the region is a natural preservation area. Throughout the region hot thermal waters spring in spas. The territory of the Ister-Granum Euroregion has been inhabited since ancient times. It was the heart of the medieval Hungarian Kingdom. Saint Stephen (Szent István), the founder of the state, was born, raised, christened and married in Esztergom. The monumental Esztergom Basilica, built between 1822 and 1869 is the largest church in Hungary. In the upstairs rooms, visitors can admire the masterpieces of the Cathedral Treasury, goldsmith and textile collections. The Primate Palace houses the Christian Museum. It exhibits collections of medieval Hungarian tablature and sculpture, baroque paintings, handicraft and tapestry.
Dinner in Nagyvillám Hunters' Inn
Friday, May 26, included in the registration fee.
Dinner in the nearby Nagyvillám Hunters' Inn at 19.30
Full-day Excursion to the Danube Bend
Saturday, May 27, price: 60 EUR per person
Departure from Hotel Silvanus at 10.00
Duration appr. 8 hours, lunch included.
The Danube Bend is an excursion into Hungary's history. The tour along the 'Blue Danube' starts in Visegrád, stops in Esztergom and Szentendre.
Visegrád: visit to the 750 year-old Royal Residence.
Esztergom, the centre of the Roman Catholic Church in Hungary. Visit to the largest cathedral of Hungary and a glimpse across the river to Slovakia. The artist's village of Szentendre is a small baroque settlement, in a beautiful natural environment. Visit to the Margit Kovács Ceramic Museum and the Confectionery Museum.
Registration
CLOSED.
Procedure of payment
(bank charges must be paid by the Registrant)
1) online by bank card via a secure bank connection
2) via bank draft made payable to K&M Congress, account no: IBAN HU28 1040 0212 5052 6666 7250 1014, K&H Bank, H-1095 Budapest, Lechner Ödön fasor 9. Swift code: OKHBHUHB
Cancellation and refund
In case of cancellation
before March 31, 2017 80 percent refund of the fees paid;
after March 31, 2017 no refund.
Refund requests must be submitted to the Conference Secretariat in writing on or before March 31, 2017.
GENERAL INFORMATION
Weather
The weather in May is usually mild in Hungary, temperature ranges between 18-20 ℃. However, cooler nights and showers may occur.
Dress
is informal at all occasions.
Visas
Holders of passports issued by several countries are granted, under bilateral agreements, visa-free travel to Hungary. For a full list please visit the Consular Services website: konzuliszolgalat.kormany.hu/visa-waiver-agreements
Currency, exchange, bank cards
The official currency is the Hungarian Forint. Exchange facilities are available at the airport, in hotels, at banks. ATMs are available throughout the country. American Express, Visa, Diner, Eurocard, MasterCard, JCB cards are mostly accepted in hotels, restaurants and city stores, but you should ask before ordering a service, or buy.
Insurance
The Organizing Committee does not assume responsibility for injuries or losses occurring to persons or personal belongings during the conference. Participants are therefore advised to carry the proper travel and health insurance.
Electricity supply and phone
In Hungary electricity is supplied at 230 V, 50 Hz like in most European countries. The 2-pin connecting plug is different from that used in some other countries (e.g. USA, UK, Japan etc.). Phoning and mobile servicing background is according to European standards.
Travel
By public transportation: Hungary lies at the crossroad of the main tourist traffic in Europe. More than 30 regular and low cost airlines operate flights to and from Budapest. From Budapest Visegrád is accessible by bus or boat.
For timetables please visit the websites:
www.bud.hu - Budapest Airport flight information
www.volanbusz.hu - bus timetable
www.mahartpassnave.hu - riverboat and hydrofoil timetable
By car: Toll must be paid on motorways. Annual, monthly and ten-day vignettes are available. www.hungary-vignette.eu