Main Patron
Prof. Dr. Miklós Kásler, Minister of Human Capacities
Date
June 27-29, 2019
Location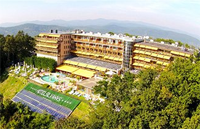 Hotel Silvanus
H-2025 Visegrád, Fekete-hegy
GPS koordináta: É 47.793577 K 18.987661
www.hotelsilvanus.hu
Map

On the hillside above Visegrád, the hotel offers a breath-taking view of the Danube Bend, with an undisturbed natural environment, quiet surroundings and excellent conference and wellness services.
Visegrád is one of the gems of the Danube Bend to the north of Budapest.
Archeological findings provide evidence that the settlement has been inhabited since ancient times and that its importance first grew under the Roman Empire. Later it became a residence of princes, known as Visegrád.
In the 14th century Visegrád developed rapidly. During the reign of the renaissance King Matthias extravagant construction started. The palace complex evolved, enriched with late-Gothic elements.
With the arrival of steamboat traffic on the Danube in the early 19th century, a new chapter opened in the history of Visegrád.
Today the Danube Bend is an outstanding holiday resort and recreation area where the mountains, the river, and the flat lands meet. The buildings of the former Visegrád fortress are museums, while the excavated and reconstructed parts of the former Royal Palace host castle games during the summer.
Visegrád is further linked to the so called 'Visegrád Four' or V4, which is the alliance of the Czech Republic, Hungary, Poland and Slovakia. The Group was formed in Visegrád on February 15, 1991, with the aim to intensify mutual co-operation and friendship between the four states.
Local organizing committee
Chairperson: Janina Kulka
Members: Lilla Madaras, Ildikó Vereczkey, Ilona Kovács
Faculty
Pavel Dundr, Prague, Checz Republic
Xavier Matias-Guiu, Lleida, Spain
C. Simon Herrington, Edinburgh, UK
Thomas Krausz, Chicago, USA
Sigurd Lax, Graz, Austria
Naveena Singh, London, UK
Simona Stolnicu, Targu Mures, Romania
Zoltán Dávid Novák, Budapest, Hungary
Officers of the Hungarian Division of the IAP
President: Janina Kulka
Secretary: Lilla Madaras
Past President: Zsuzsa Schaff
Treasurer: Gabriella Arató
Congress Secretariat
K&M Congress Ltd.
H-1064 Budapest, Podmaniczky u. 75.
telephone: +36-1-3012000
telefax: +36-1-3012001
send us e-mail
Scientfic and Commercial Exhibition
A comprehensive exhibition will be held at the Congress venue.
To obtain further information please fill in the form below.
By fill in this form you can not register to the congress. If you would like to register please click here.