Dear Colleagues,
We are preparing for the 10th Jubilee of the Technology Transfer in Diagnostic Pathology Central European Regional Meeting series. We would like to celebrate this important jubilee by outstanding scientific content in the field of Gynecological Pathology, but our aim is to make this event a little bit more special than the former nine meetings were.
Therefore, hereby we announce that every 10th congress registration will be accompanied by a small present that will be handed to the registrants upon arrival to Hotel Silvanus Visegrád.
So please join the game, register to the Technology Transfer in Diagnostic Pathology 10th Central European Regional Meeting and be the 10th, the 20th, the 30th…the 200th and win a jubilee present!
We look very much forward to welcome you in Visegrád,
The Organizers
Main Patron
Prof. Dr. Miklós Kásler, Minister of Human Capacities
Official website
Date
June 27-29, 2019
Location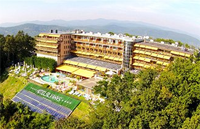 Hotel Silvanus
H-2025 Visegrád, Fekete-hegy
GPS koordináta: É 47.793577 K 18.987661
www.hotelsilvanus.hu
Map

On the hillside above Visegrád, the hotel offers a breath-taking view of the Danube Bend, with an undisturbed natural environment, quiet surroundings and excellent conference and wellness services.
Visegrád is one of the gems of the Danube Bend to the north of Budapest.
Archeological findings provide evidence that the settlement has been inhabited since ancient times and that its importance first grew under the Roman Empire. Later it became a residence of princes, known as Visegrád.
In the 14th century Visegrád developed rapidly. During the reign of the renaissance King Matthias extravagant construction started. The palace complex evolved, enriched with late-Gothic elements.
With the arrival of steamboat traffic on the Danube in the early 19th century, a new chapter opened in the history of Visegrád.
Today the Danube Bend is an outstanding holiday resort and recreation area where the mountains, the river, and the flat lands meet. The buildings of the former Visegrád fortress are museums, while the excavated and reconstructed parts of the former Royal Palace host castle games during the summer.
Visegrád is further linked to the so called 'Visegrád Four' or V4, which is the alliance of the Czech Republic, Hungary, Poland and Slovakia. The Group was formed in Visegrád on February 15, 1991, with the aim to intensify mutual co-operation and friendship between the four states.
Transfer
We provide transfer from Visegrád Hajóállomás bus station to Hotel Silvanus on June 27, at 11:48.
Please catch the following bus in Budapest to reach the transfer:
Local organizing committee
Chairperson: Janina Kulka
Members: Lilla Madaras, Ildikó Vereczkey, Ilona Kovács
Faculty
Pavel Dundr, Prague, Checz Republic
Xavier Matias-Guiu, Lleida, Spain
C. Simon Herrington, Edinburgh, UK
Thomas Krausz, Chicago, USA
Sigurd Lax, Graz, Austria
Naveena Singh, London, UK
Simona Stolnicu, Targu Mures, Romania
Zoltán Dávid Novák, Budapest, Hungary
Officers of the Hungarian Division of the IAP
President: Janina Kulka
Secretary: Lilla Madaras
Past President: Zsuzsa Schaff
Treasurer: Gabriella Arató
Congress Secretariat
K&M Congress Ltd.
H-1064 Budapest, Podmaniczky u. 75.
telephone: +36-1-3012000
telefax: +36-1-3012001
send us e-mail
Important deadlines
Abstract submission: March 31, 2019 April 30, 2019
Early registration fee: April 30, 2019 May 5, 2019
Official language
The official language will be English
EACCME Accreditation
"The TECHNOLOGY TRANSFER IN DIAGNOSTIC PATHOLOGY 10TH CE REGIONAL MEETING Gynecological Pathology, Visegrad, Hungary, 27/06/2019-29/06/2019 has been accredited by the European Accreditation Council for Continuing Medical Education (EACCME®) with 15 European CME credits (ECMEC®s). Each medical specialist should claim only those hours of credit that he/she actually spent in the educational activity."
"Through an agreement between the Union Européenne des Médecins Spécialistes and the American Medical Association, physicians may convert EACCME® credits to an equivalent number of AMA PRA Category 1 CreditsTM. Information on the process to convert EACCME® credit to AMA credit can be found at www.ama-assn.org/education/earn-credit-participation-international-activities."
"Live educational activities, occurring outside of Canada, recognised by the UEMS-EACCME® for ECMEC®s are deemed to be Accredited Group Learning Activities (Section 1) as defined by the Maintenance of Certification Program of the Royal College of Physicians and Surgeons of Canada."
Program table
Abstract submission
Abstracts for poster presentation only can be submitted via the online submission form, maximum 1,200 characters of text (excluding name and affiliation).
Deadline for abstract submission: March 31, 2019 April 30, 2019
Abstracts received after the deadline will not be considered. The decision of the Abstract Evaluation Committee will be forwarded to the author by e-mail until May 15, 2019. Presenting authors must register and pay the registration fee.
Format requirements
Title: maximum of 100 characters, do not use capital letters.
Authors: first name(s), initial(s), surname Affiliations: institute, department, city, country
Abstracts should include the following sections:
Introduction/Background
Objective/Purpose
Method
Results
Conclusion
All abstracts should be written in English Abstracts will be published in the Final Program. Submission implies consent to the publication.
Abstract submission is closed.
Poster presentation
Poster authors can prepare maximum 5 PowerPoint slides for presenting their posters.
All poster presentations will be 5 minutes long including the discussion.
Posters are supposed to be by E-posters therefore printed posters are not acceptable.
Registration fees
(excluding 27% VAT)
| | | |
| --- | --- | --- |
| | Until May 5, 2019 | After May 5, 2019 |
| IAP members | 150.00 EUR | 200.00 EUR |
| Non-members | 200.00 EUR | 250.00 EUR |
| Residents and PhD Students* | 120.00 EUR | 150.00 EUR |
*requires certification from the applicant's institution
Participants are entitled to the following services:
admission to the scientific program and the exhibition
congress bag
handout
coffee and refreshment during the breaks
Lunch on Thursday, June 27
Lunch on Friday, June 28
Accomodation
On behalf of the meeting K&M Congress Ltd. has reserved hotel rooms in Hotel Silvanus.
Reservation can be made via the congress website. Reservations will be made on a "first come - first serve" basis against full payment.
Hotel Silvanus****

H-2025 Visegrád, Fekete-hegy

Website Map
Single room
FULLY BOOKED.
Double room
FULLY BOOKED.
Room rates include buffet breakfast and buffet dinner, wifi and taxes.
Meals
| | |
| --- | --- |
| Buffet dinner for hotel guests, 27 June | included in the accomodation fee |
| Buffet dinner for non-hotel guests, 27 June | 25.00 EUR/pax |
| Buffet dinner for hotel guests, 28 June | included in the accomodation fee |
| Buffet dinner for non-hotel guests, 28 June | 25.00 EUR/pax |
Procedure of payment
(bank charges must be paid by the Registrant)
1) online by bank card via a secure bank connection
2) via bank draft made payable to K&M Congress, account no: IBAN HU28 1040 0212 5052 6666 7250 1014, K&H Bank, H-1095 Budapest, Lechner Ödön fasor 9. Swift code: OKHBHUHB
Cancellation and refund
In case of cancellation
until April 30, 2019 80 percent refund of the fees paid;
after April 30, 2019 no refund.
Refund requests must be submitted to the Conference Secretariat in writing on or April 30, 2019.
GENERAL INFORMATION
Weather
The weather in June is usually warm in Hungary, temperature ranges between 20-24 ℃. June is also Hungary's rainiest month.
Dress
is informal at all occasions.
Visas
Holders of passports issued by several countries are granted, under bilateral agreements, visa-free travel to Hungary. For a full list please visit the Consular Services website: konzuliszolgalat.kormany.hu/visa-waiver-agreements
Currency, exchange, bank cards
The official currency is the Hungarian Forint. Exchange facilities are available at the airport, in hotels, at banks. ATMs are available throughout the country. American Express, Visa, Diner, Eurocard, MasterCard, JCB cards are mostly accepted in hotels, restaurants and city stores, but you should ask before ordering a service, or buy.
Insurance
The Organizing Committee does not assume responsibility for injuries or losses occurring to persons or personal belongings during the conference. Participants are therefore advised to carry the proper travel and health insurance.
Electricity supply and phone
In Hungary electricity is supplied at 230 V, 50 Hz like in most European countries. The 2-pin connecting plug is different from that used in some other countries (e.g. USA, UK, Japan etc.). Phoning and mobile servicing background is according to European standards.
Travel
By public transportation: Hungary lies at the crossroad of the main tourist traffic in Europe. More than 30 regular and low cost airlines operate flights to and from Budapest. From Budapest Visegrád is accessible by bus or boat.
For timetables please visit the websites:
www.bud.hu - Budapest Airport flight information
www.volanbusz.hu - bus timetable
www.mahartpassnave.hu - riverboat and hydrofoil timetable
By car: Toll must be paid on motorways. Annual, monthly and ten-day vignettes are available. www.hungary-vignette.eu